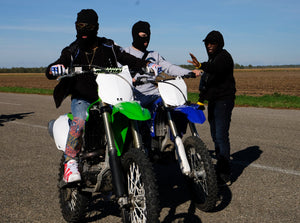 Specialist balaclava store
ACCUMULATES THE DRIP WITH A BALACLAVA
Putting on the balaclava and gloves is good, but with style is better, whether you're a drill enthusiast or even a biker. Balaclava world is present in winter and summer with more than 400 choices of masks.
Our balaclava collections
THE BALACLAVA SHOP
Welcome to Balclava World! Our store was born from the will to bring you quality balaclavas. We work closely with our suppliers and select only the highest quality items. We are committed to always offer you the best products at the lowest prices. Today the brand, creator of balaclava for men, balaclava for women, and balaclava 3 holes, 2 holes, and custom balaclavas or with cammouflage patterns. Initiated by lovers of timeless and unisex balaclavas, we make it a point of honor to offer a selection sharp and close to your expectations. In addition to being an original gift it is perfect to adopt a look, hip-hop, biker or drill uk If you want to enter our family of balaclavas, you will have a wide choice of red, blue, pink, white, or black balaclavas. Our balaclavas are divided into two categories man or woman but they are unisex. There are several styles of hoods designersfor fashions, camo hoods and military hoods for fans of airsoft. The classic hoods 2 holes and hoods 3 holes. See you soon, The Balaclava World team.
A WIDE CHOICE OF HOODS!
A wide choice of very technical material such as windproof microfiber, waterproof material, waterproof Gore-Tex, elastic fleece knit, light cotton for protected summers and a merino wool textile with elastane. Ideal for our athletes who want to protect their faces in cold weather. Whether it's extreme cold or mid-season or protecting yourself from the Ones, these balaclavas are ideal protection for our bikers who practice the road with a motorcycle or scooter. Available, a wide choice of colors and they are all one size. Several types of balaclava, the 1-hole porthole mask model inspired by the SWAT with their tactical accessories or the classic 2-hole and 3-hole model perfect for overcoming the winter cold. For the motorcycle, we have made a selection of balaclava snood equipped with neckwarmer the ultimate accessory to beat the cold and the rain on your face and neck. We also have technical collections in silk, light balaclavas for Airsoft, and paintball. These military balaclavas are very inspired by army equipment which can be used in areas like hunting, fishing and survival.
HOW TO CHOOSE YOUR SKI MASK?
Easily replaces your choker, mask, beanie and scarf accessories, balaclavas have become a style accessory in their own right in the world of classic and urban fashion. To choose your balaclava you must first choose its function, you can wear a balaclava for style or for sport. In both cases, we can meet your expectations our range goes from the unique balaclava in flashy colors or in classic colors such as black, gray or white for Instagram photos, to technical models used for snowmobiling. or for skiing. To have a perfect look in all seasons choose your balaclava compared to your accessories, your shoes, your jacket or vest, and your pants.